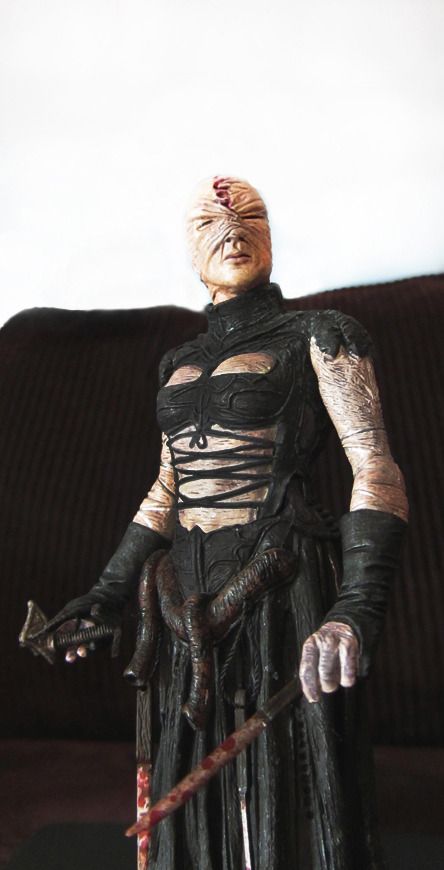 Continuing on from the previous
Hellraiser Series 1 showcase
, is the Stitch Cenobite, who appeared in
Hellraiser: Hellseeker
and only briefly in
Hellraiser: Deader
. A gruesome looking Cenobite, with a serious skin condition. Read on to seek out this showcase...
The Stitch Cenobite is a pretty neat design. Although only seen for a few seconds at most in the movies, what you saw was fairly cool. She's a pretty stomach turning creation, with the stretched, stitched skin on her face and a creepy smile. The intestines that wrap around her waist to form a belt, holding her various knives, is delightfully disgusting. The action figure captures all of these details and even fills in the rest of the stuff you don't get to see on the big screen.
Behind the scenes with the Hellseeker Cenobites.
Paint work, once again early NECA, is perfect. My favourite part being the bloody stretched skin, which is painful (or is it a pleasure?) to look at. Articulation is limited to cut joints on the shoulders, elbows and upper wrist area. The head also can turn side to side. From the waist down is a one piece mold, so no articulation is to be found. The accessories included are: a bloody knife, a mouth cover contraption (only seen for a few seconds in the film) and finally another stand/piece of the puzzle box.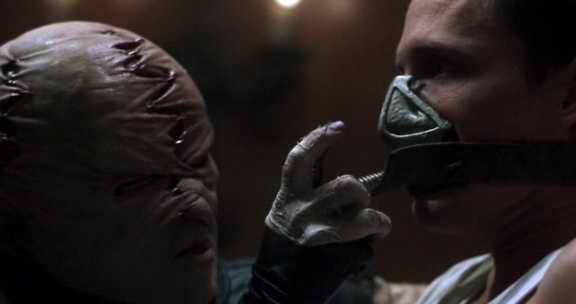 Stitch using her mouth cover contraption to stop Dean Winters from talking about insurance.
Even if you're not a fan of the DTV films in the series, I still think it would be wise to
pick up this wonderfully morbid Cenobite
. She's a one of kind and a keeper in my books.
Now on to the photos! (
Click to enlarge.
)