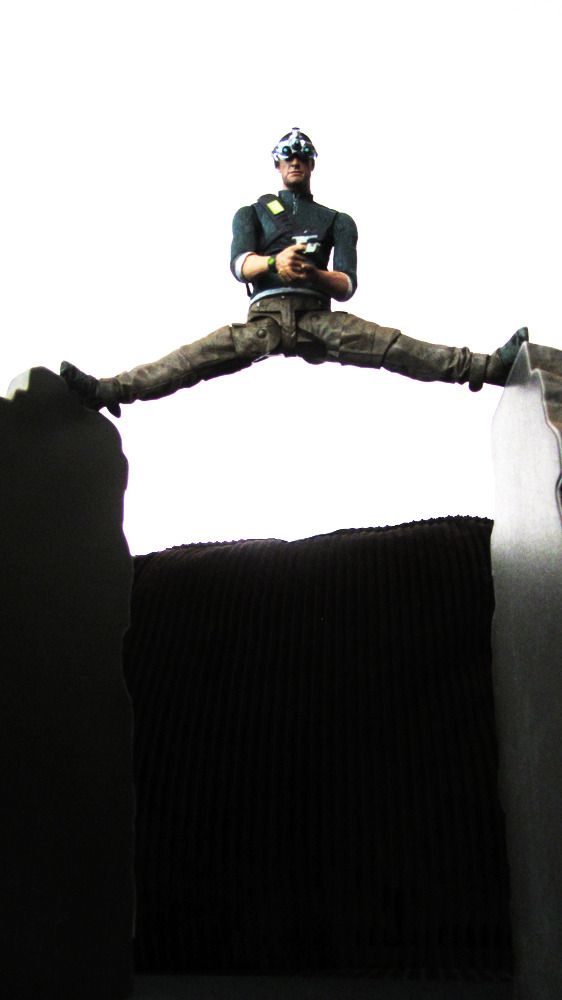 In honour of the recent announcement of the new
Splinter Cell: Blacklist
game (
a celebration slightly spoiled by the lack of Michael Ironside's voice
), the Action Figures showcase for today is the Sam Fisher action figure from
NECA
, based on his appearance in
Splinter Cell Conviction
.
Sam Fisher comes with his trademark tri-goggles, FN Five-SeveN pistol, exchangeable bullet proof vest and sling pack. The figure has a good amount of articulation, over 24 points, but oddly enough is unable to capture a nice crouching pose, a signature Sam Fisher look.
The sculpt comes close to matching Sam Fisher in the game. A few paint application problems on the head (e.g. badly painted stubble) can come up, so it's best to check out the figure in hand before buying. The paint on the body and accessories is nicely done. The small details such as his phone in his sling pack, pistol, watch and tri-googles really stand out.
The figure belongs on the shelves of any
Splinter Cell
fan and it can be found for a fairly good price ($15 range).
Now for the pictures!
(Click to enlarge.)