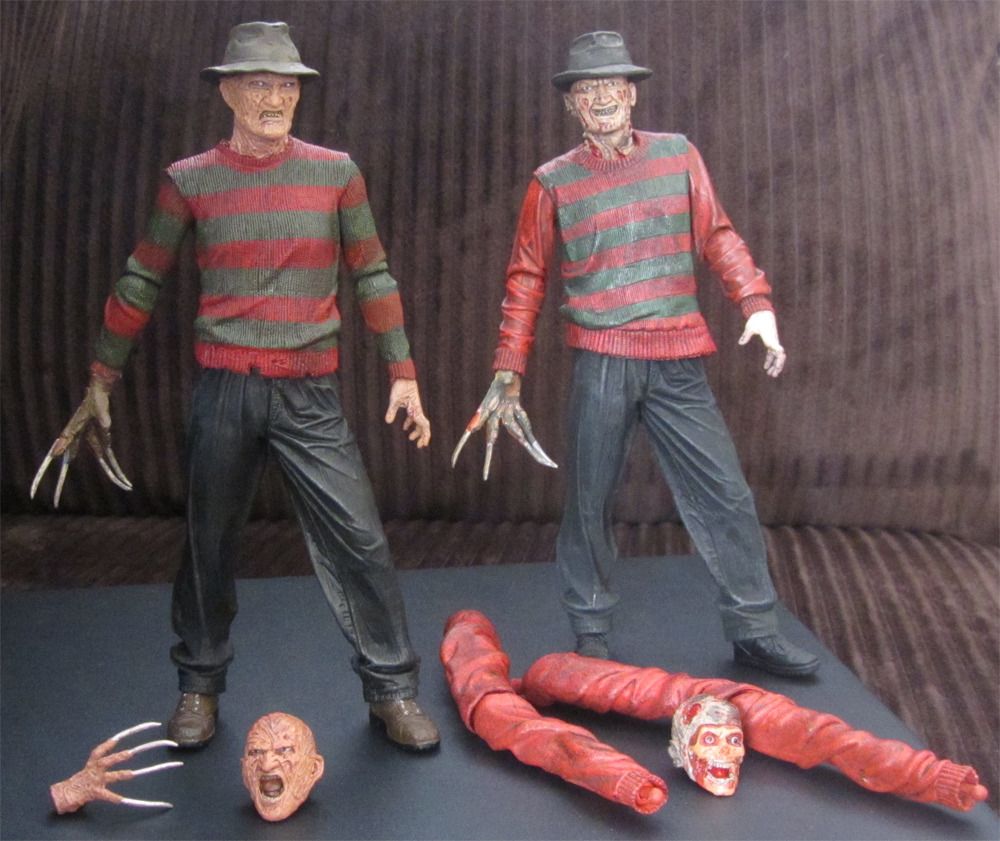 The Action Figures showcase for today, is the amazing and highly detailed, A Nightmare on Elm Street Series 1, released in 2011 by NECA.
The series consist of two figures, Freddy Krueger from A Nightmare on Elm Street and Freddy Krueger from A Nightmare on Elm Street Part 2: Freddy's Revenge.
Freddy, from Nightmare 1, comes with outstretched arms (so you can replicate the alley scene from the film) and changeable head (Freddy's gruesome bloody skull face). The detail work on the figure is outstanding, NECA was able to capture Freddy's charred grotesque burnt face perfectly. The sweater is made of a soft rubber material and the colours are accurate to the film (red sleeves not striped).
Freddy, from Nightmare 2, comes with a second screaming head with brain exposed and the bladed ungloved hand, as seen near the end of the film. The same amount of insane detail as the first one, can be seen on this figure. Of the two, this figure is my favorite.
One complaint that I and many people have expressed, is the reuse and lack of articulation on the legs. In all honesty, it's a little cheap, but understandable as it saves money and no one is really focusing on the legs. I feel it should mentioned and hopefully in the future, NECA will switch it's Freddy line over to a newer design.
Now for the pictures of the burnt guy himself!
(Click to enlarge.)