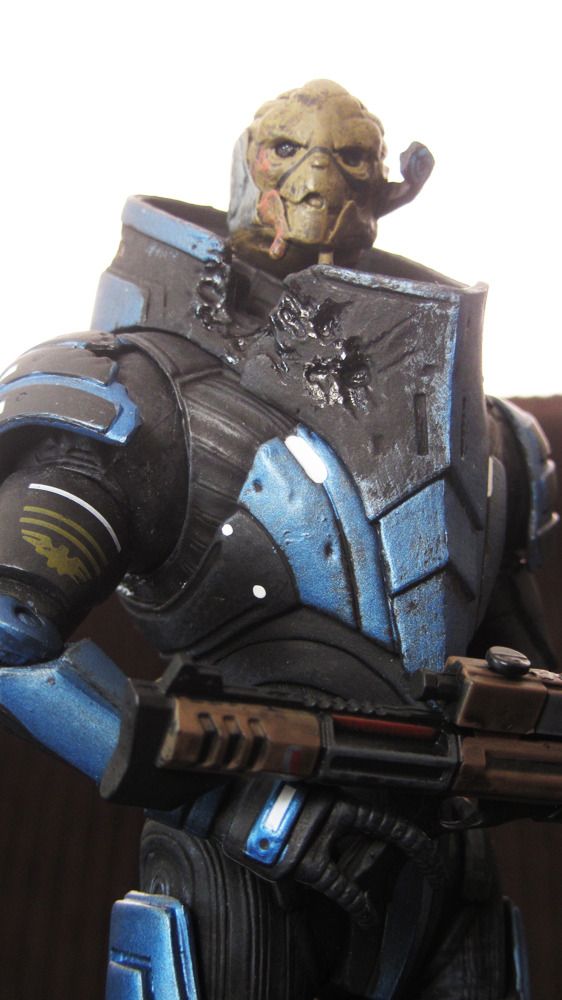 In celebration of the
Electronic Entertainment Expo (E3)
happening in Los Angeles this week, I thought it would be fitting to have a video game Action Figures showcase theme this week. Monday brought us
Sam Fisher from Splinter Cell
and today brings us Garrus Vakarian from the
Mass Effect
series.
Garrus' appearance is based on his look from
Mass Effect 2
and is brought to us by Big Fish Toys. His only accessory is a sniper rifle, but it also includes a base to help him stand. Articulation is limited and the sniper rifle has a some trouble staying in his hands, this will limit your poses to one or two. The paint is well detailed and really brings out the battle damaged look that Garrus supported in
ME2
. It should be mentioned, if you like to keep your action figures in the package, you'll be missing out on a downloadable code for the multiplayer portion of
Mass Effect 3
video game.
It might not be as high quality and articulated as other action figures, but if you're a fan of Mass Effect and Garrus Varkarian, you can't go wrong with picking him up.
What do you think of the Mass Effect action figures? Is there something you would like to see down the line for the series? Do you wish a different company was making them? Fire away in the comments section below.
Now for the pictures!
(Click to enlarge.)