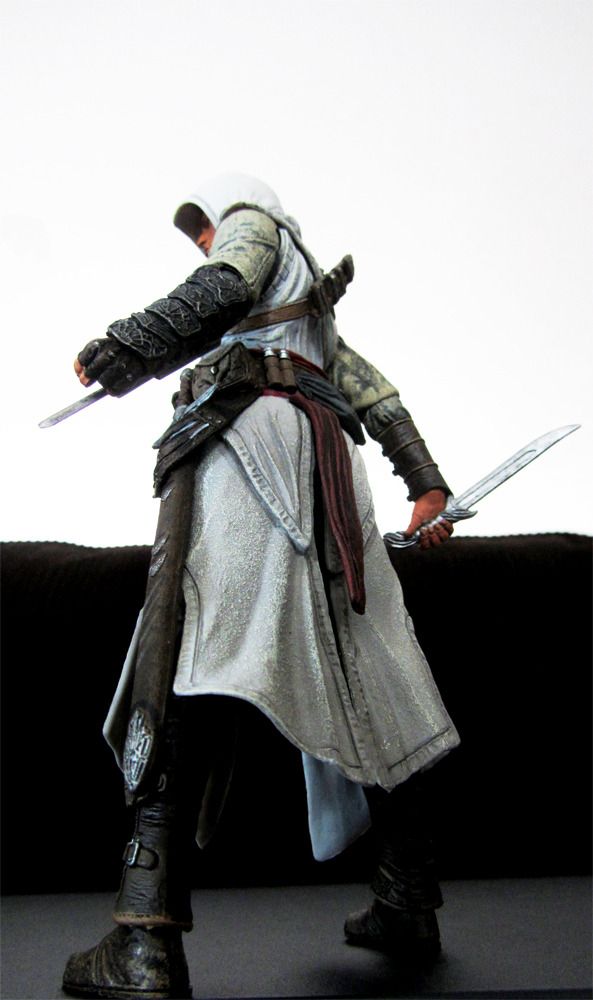 The video game theme continues with Altair, from the hit video game
Assassin's Creed
. The figure was released in 2007 in the Player Select line from
NECA
.
Altair comes with an assortment of accessories, which include: r
etractable wrist blade, 4 removable throwing knives, long sword, dagger and
alternate hand. The paint work on the body is phenomenal, catching all the finest details from the game. Intricate detail work can be found on the various pouches, knives, dagger, sword and sheath. On the other hand, the decision to give Altair a moustache and soul patch (not present in game) throws off the look of an otherwise brilliant figure. Articulation in the upper body is excellent enough to allow for some interesting poses. The lower body however has some strange leg joints, which don't allow for any sort of crouching.
All nitpicks aside, this figure is a must own. If you're a fan of the Assassin's Creed series, you owe it to yourself to seek this out, all others who enjoy a finely detailed figure should do the same.
What do you think of NECA's job on the Altair figure? Any favourite Assassin's Creed figures? Excited for
Assassin's Creed III
this fall? Throw down some comments below!
On to the pictures!
(Click to enlarge!)